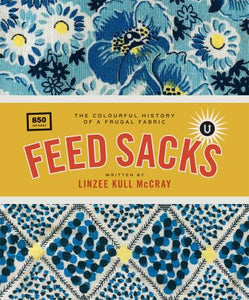 Book Feed Sacks
Feed sacks are the perfect example of a utilitarian product turned into something beautiful.
Author Linzee Kull McCray explores the history of the humble feed sack, from a plain cotton sack to exuberantly patterned and colorful bags that were re-purposed into frocks, aprons, and quilts by thrifty housewives in the first half of the twentieth century.
Extensive imagery and at-scale reproductions of these fabrics create an inspiring sourcebook of pattern and color—and offer a welcome visit to the days of yesteryear.

Feed Sacks is a celebration of vintage fabrics that continue to be cherished in the twenty-first century.

Author Linzee McCray is known for her lectures, which feature feed sack–inspired fabric collections and original feed sacks, along with her extensive knowledge of the historical and social importance of feed sacks.

More than 850 stunning photographs and a bounty of stories about garment and quiltmaking traditions make Feed Sacks a coveted gift.


Pages: 544

Author: Linzee Kull McCray

Publish Date: 11/15/2019

Dimensions: 6.6in x 1.1in x 7.9in

Softcover
---
We Also Recommend