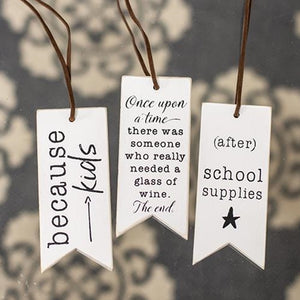 Gifts "Because Kids" Wine Tags
"Because Kids" Wine Tags is a humorous addition to any kitchen.
Made from wood, this set of three gift tags are painted white and printed with wine-themed phrases such as, "because kids," "once upon a time there was someone who really needed a glass of wine," and, "(after) school supplies."
Each tag boasts a leather loop and measures 3.75" high by 1.75" wide and 6.75" high with loop.
---
We Also Recommend