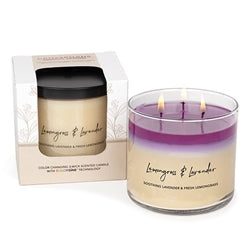 Gifts Lemongrass & Lavender Color Changing Candle, 15.5oz
The Lemongrass & Lavender Color Changing Candle is a hand-poured candle made of high-quality paraffin wax. This candle has three wicks for a slow and even burn, lasting approximately 80-100 hours in burn-time.
The candle features the bright and soft scent of soothing herbal lavender swirled with fresh, citrusy lemongrass, and includes a black metal lid to preserve the original aroma.
This candle is crafted using Colorsine technology, resulting in a color-changing feature when burning. Trim the candle's wicks to 1/8" and light to watch the candle wax gradually turn from ivory to purple while burning, bringing a fun new dynamic to home fragrance! When the flames are extinguished and the candle cools, the wax will return to its original ivory shade.
Pair this candle with a candle ring or mat for a decorative display year-round. Poured in the USA!
---
We Also Recommend