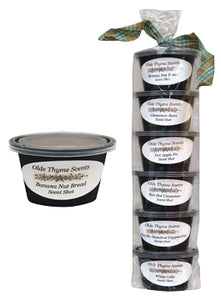 Gifts Scent Shots, Olde Thyme - Set of 6
Each 1 oz. Scent Shot quickly fills up your room with scent and each one lasts up to 8 hours.
The 6-piece Assorted set includes: Banana Nut Bread, Cinnamon Buns, Hot Apple Pie, Red Hot Cinnamon, Vanilla Hazelnut Cappuccino, and White Cake.
Set comes in a cello sleeve with a homespun ribbon. Hand-poured in the USA.
---
We Also Recommend