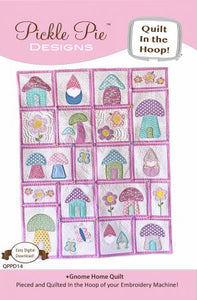 Pattern Machine Embroidery Gnome Home Quilt
Create a whimsical Gnome Home Quilt with our fun and easy "in the hoop" quilt blocks! In one hooping, you'll stitch and quilt each appliqued block. Once you have your blocks stitched, we'll show a nifty method to finish each block and stitch them all together on your sewing machine, or by hand, to create your adorable quilt (or a whimsical table runner!) No binding is required on the quilt since each block is self-binding!

Design info: Hoop size: 5x7, Largest Design size: 4.7" x 6.8"
Hoop size: 6x10, Largest Design size: 5.9" x 8.6"
Hoop size: 7x12, Largest Design size: 6.9" x 10.1"
Hoop size: 8x12, Largest Design size: 7.9" x 11.5".

This product includes an easy digital download code.

---
We Also Recommend